Quilombola rights threatened in Brazil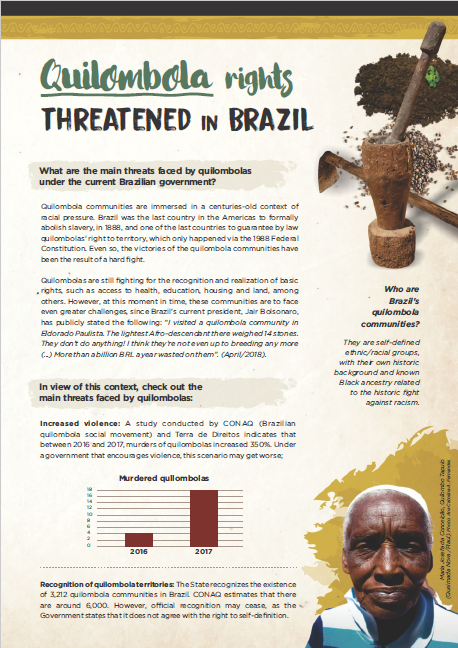 Quilombola communities are immersed in a centuries-old context of racial pressure. Brazil was the last country in the Americas to formally abolish slavery, in 1888, and one of the last countries to guarantee by law quilombolas' right to territory, which only happened via the 1988 Federal Constitution. Even so, the victories of the quilombola communities have been the result of a hard fight.
Quilombolas are still fighting for the recognition and realization of basic rights, such as access to health, education, housing and land, among others. However, at this moment in time, these communities are to face even greater challenges, since Brazil's current president, Jair Bolsonaro, has publicly stated the following: "I visited a quilombola community in Eldorado Paulista. The lightest Afro-descendant there weighed 14 stones. They don't do anything! I think they're not even up to breeding any more (...) More than a billion BRL a year wasted on them".
In view of this context, check out in this material the main threats faced by quilombolas.
News Relacionadas
02/13/2019 • Quilombolas

+



Ações: Quilombolas
Eixos: Earth, territory and space justice
Tags: Quilombolas